Growing up, my siblings and I had a white plastic nativity set that we could set up and play with during the Christmas season. For the last few years, I've been looking for a nativity set that my children could enjoy. The Little People set seems to be popular, but I just don't like the look of it. I guess I'm picky, but I've also had it in my head that I'd like to make the nativity set. Two years ago, I purchased
this nativity pattern
from BuggaBugs on Etsy. The pattern is really well done, but I just haven't been able to find the time to actually complete it. Last year, the excuse was that I could not find flesh-toned felt. This year I'm determined to make at least the baby Jesus, Mary and Joseph. I even ordered some felt from one of my favorite shops on Etsy,
Giant Dwarf
.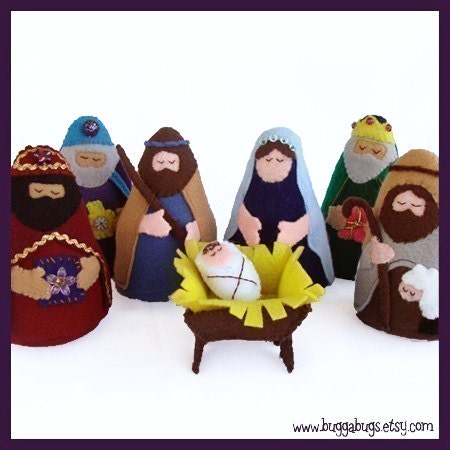 Isn't that adorable?
While Buddy was at preschool yesterday, Jellybean and I went to peruse the toy store. I noticed the
Melissa and Doug nativity set
was on sale and I liked the way it looked. So, I broke down and bought it.
The kids have already taken to it, setting it up and moving the figures around. I still plan on making the other set, but at least they have something to play with in the meantime.
Have a Happy Day!
~MJ